Bruger I jeres værdier i alt hvad I gør?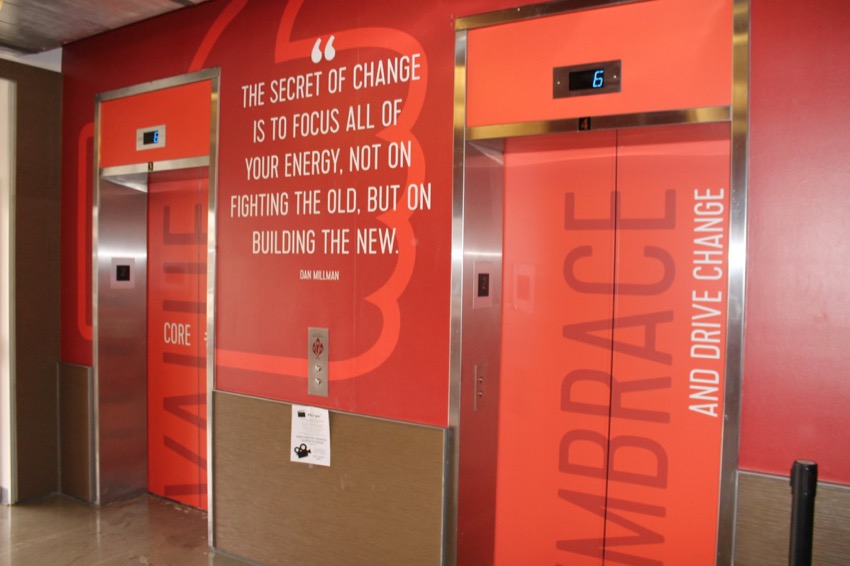 Alle virksomheder har værdier – værdier der er skrevet ned, hænger som plakater eller måske endda er malet direkte på væggen, men hvor meget bruges disse værdier?
Værdier, som ikke bliver levet i praksis fører til frustration og dræber al arbejdsglæde, fordi vi opfatter dem som uærlige og meningsløse. Det har vi skrevet om i disse to artikler:
Hos amerikanske Zappos, har de defineret 10 kerneværdier som de bruger i alt hvad de gør – ALT! – inklusiv ansættelser, forfremmelser, planlægning og udvikling. Derfor er det helt i orden at de har dekoreret hver etage med en af deres 10 kerneværdier (og så er det så heldigt at de har 10 etager).
Deres 10 kerneværdier er:
Deliver WOW Through Service
Embrace and Drive Change
Create Fun and A Little Weirdness
Be Adventurous, Creative, and Open-Minded
Pursue Growth and Learning
Build Open and Honest Relationships With Communication
Build a Positive Team and Family Spirit
Do More With Less
Be Passionate and Determined
Be Humble
Zappos fortæller at, i takt med at firmaet er vokset, er det blever mere og mere vigtigt for dem, at definere deres kerneværdier og derfra bygge virksomhedens kultur, brand og forretningsstrategier. Derfor blev ovennævnte 10 kerneværdier til tilbage i 2006 – Og den dag i dag lever Zappos stadig efter dem, og ja… i ALT hvad de gør.
I denne video kan du se et interview vi har lavet med 2 af deres HR folk for nogle år siden.
Bruger I jeres værdier i ALT hvad I gør, eller er de bare nogle ord på en plakat?
Relaterede artikler