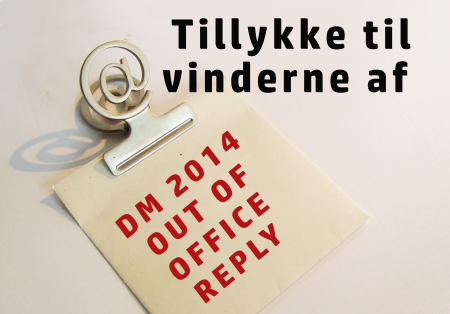 For fjerde år i træk har vi afholdt vores DM i Out of office beskeder. Igen i år er vi meget glade for de mange gode bud på den hvordan den bedste Out of Office besked kan se ud – tusind tak for dem!
Vi har gennemgået alle bud og har fundet vinderne, som det er en fornøjelse at præsentere!
Vinderne er:
Tina da Silva – især fordi den giver modtageren af OOO-beskeden et valg.
Hej.
Jeg er holdt op med at læse mails…

Indtil d. 28. juni vil jeg kun læse de spanske menukort, "Sofies verden", "Den hundreårige der kravlede ud af vinduet og forsvandt" og godnathistorier for børnene. Jeg holder nemlig sommerferie.

I mit fravær er det Susanne Xxxxx, der holder skansen. Hun kan kontaktes på susanne.xxxxxxx@xxxx.dk eller telefon xxxx xxxx.

Og hvis der virkelig -VIRKELIG- er noget jeg skal forstyrres med i min ferie, og kan Susanne kontakte mig på den hemmelige linje, som kun hun, NSA og Se & Hør kender til.

Indtil du hører fra mig igen, så ha' en rigtig god sommer

De bedste sommerhilsner
Bjarne
Trine – især fordi OOO beskeden er forskellig alt efter om den er beregnet på interne eller eksterne henvendelser.
Internt auto svar!

TUSINDE TAK FOR DET ARBEJDE DU GØR I DET DAGLIGE!
Tak fordi du mener at jeg kan have gavn af din viden omkring et projekt, eller fordi du mener at jeg faktisk kan gøre en forskel med netop det du sidder og pusler med netop nu.

Jeg kan ikke gøre en forskel lige p.t – jeg sidder forhåbentlig med fødderne i vandet.

Mit mål i disse 3 uger, er at:
• Sove længe
• Bade, også i regnvejr (HVER DAG!)
• Være doven (Intet Facebook, Instagram, Snapchat eller EB)
• Oppe mig på løb, så jeg er klar til DHL
• Spise masser af god mad (helst jomfruhummer haler fra Skagen)
• SAVNE mit arbejde og mine helt igennem fantastiske kollegaer

Jeg ønsker dig en rigtig god arbejdslyst, og tak fordi du holder det hele kørende mens jeg nyder et afbræk fra den daglige trommerum.

Det skal DU have ET STORT TAK for!

Mange Varme sommerferie hilsner
Trine

EKSTERNT autosvar!

I am currently out of office on vacation.

I know I'm supposed to say that I'll have limited access to email and won't be able to respond until I return – but that's not true. My IPhone will be with me and I can respond if I need to. And I recognize that I'll probably need to interrupt my vacation from time to time to deal with something urgent.

That Said, I promised my family that I am going to try to disconnect, get away and enjoy our vacation as much as possible. So I'm going to experiment with something new.
I'm going to leave the decision in your hands;

• If your email truly is urgent and you need my response while I'm on vacation, please call me on this number: + 45 XXXXXXXX

• If you think someone else at CXXXXX might be able to help you, feel free to contact them.
Otherwise, I'll respond when I return Monday the 11th of August (give me a couple of days to respond).

Warm Regards,
Trine
Marlene – især fordi OOO-beskeden er meget specifik i forhold til afsenderens job.
Malene har sendt os dette bidrag via mail – fra en der arbejder i vinbranchen :-)

"Hi there,

I'm away from office to sip cool holiday rieslings until 28th July. In
the meantime, make sure to drink lots of great wine, and give my
colleagues a call on +45 xxxxxxxx if you have any urgent matters.

Cheers"
Tusind tak til alle der deltog i DM i Out of Office 2014 – og tillykke til vinderne, som alle har fået direkte besked.