Der er mange måder at sprede arbejdsglæde på… Sidste fredag havde aktivitetsudvalget hos Solar i Brøndby planlagt et lille "gimmick".
Efter at have afholdt foredrag og workshops hos Solar, har Projekt Arbejdsglæde holdt et enkelt møde med aktivitetsudvalget. Her talte vi om hvordan de som medarbejdere kan være med til at skabe gode relationer på arbejdspladsen, og i ny og næ få et grin sammen med kollegerne. Og man må sige at de har har taget opgaven til sig.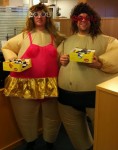 I fredags gik aktivitetsudvalget rundt i hele huset med små stykker chokolade, hvorpå de havde sat små smiley klistermærker med teksten: "Arbejdsglæde hos Solar". Udover de to skønne "chokolade-omdelere", var resten af aktivitetsudvalget iført t-shirts hvorpå de havde trykt samme smiley og tekst som på chokoladen.
Man behøver nødvendigvis ikke bruge penge på at få trykt t-shirts m.m., men overraskelsesmomentet i sig selv er her det vigtigste, og så er det jo ikke mindre underholdende med de 2 smukke og glade omdelere ;o)
Afdelingschef Karsten Jørgensen fra Solar, skriver : "Arbejdsglæden er fortsat høj her hos os, vi har et rekord lavt sygefravær ! Så det virker med vores øget fokus på arbejdsglæden…"
Fortsat god fredag og ha' nu en fantastisk weekend!