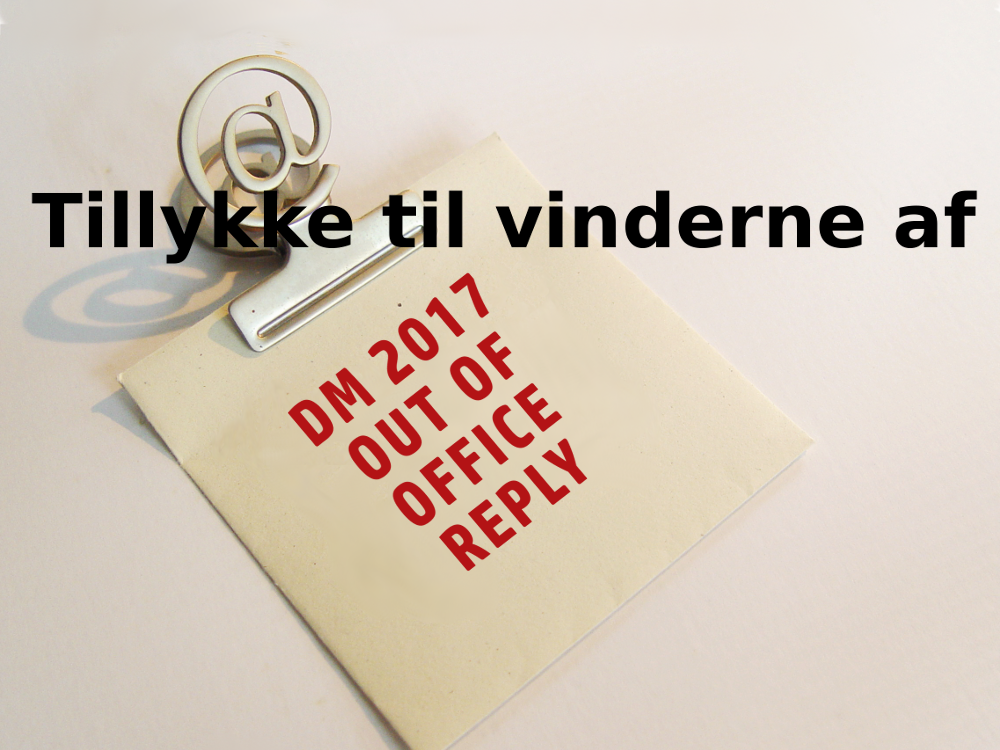 For 7. år i træk har vi afholdt vores DM i Out of office beskeder. Igen i år har juryen været på en svær opgave med at udvælge blot tre vindere blandt de indsendte forslag – tusind tak for alle de fine bidrag.
Her har vi fornøjelsen af at præsentere vinderne:
Christoffer vinder 3. præmien: Bøger: 1 bog – Happy Hour fra 8 til 16 + 1 bog 52 Glade Mandage
Dear You,

Thank you for your inquiry, which I am pleased to receive.

Yes, you already know it. It is that time of year, where the sun is shining, skies are blue, and you will not find me in the office. I'm off on my summer vacation.

You – yes you – now have to make a choice… :-)

1. You can wait until I am back (on Monday the 17th of July), where I'll do my best to prioritize your inquiry… or if you can't wait…

2. You can contact my extremely competent HR team by using the following address: xxxxxx@yyyyy.com

If you for some odd reason believe, that I am THE only one, who can answer you AND it can't wait for my return, then call me.
Here's my number à +45 xxxx xxxx. I might not answer right away, but leave your name and number (and the reason for the call),
and if I agree on the urgency I'll get back to you J

I hope, that you up until now have had a great day; and that this will continue for the rest of day!

Med venlig hilsen / Best regards,

Christoffer K. Hagen
Laila vinder 2. præmien: 1 spil "Kort til arbejdsglæden" + 100 Din arbejdsglæde gør glad – kort
Den her fik et smil på læben hos mig. Min skønne sønderjyske kollega tog den hele vejen i det interne feriesvar:

—

Tak for din mail.
Æ æ å vej til Paris å æ cykel. Æ æ nok tebach igen den føst august. Æ løs kun mails ind imel. Hvis dær æ naue der haste så send en SMS te æ cykel xxxxxxxx. Så ringe æ tebach hvis æ ha luft.

Med venlig hilsen

Hans xxx
Mathilde vinder 1. præmien: Arbejdsglædespillet – vores sjove, enkle brætspil for afdelinger, teams eller projektgrupper
Her er mit autoreply for sommeren 2017:

—

Yeah! Så blev det min tur til at holde sommerferie Jeg sender varme tanker til alle jer, der knokler i mit fravær!

[resten anbefales læst med højtidelig Award-uddelingsstemme]

Og vinderne er:

For projektet vedr. implementering af APOTECHEMO robot: Navn Efternavn (xxx@regionh.dk, direkte xxxx xxxx)

For cytostatikaproduktionen: Afdelingsleder Navn Eftenavn (yyy@regionh.dk, direkte yyyy yyyy)

For kliniske forsøg: Her er der kamp om pladsen, og du fanger mindst en dygtig farmaceut fra Herlevs cytostatikaproduktion, hvis du skriver til zzz@regionh.dk

Hvor er jeg heldig, at være omgivet af så mange dygtige mennesker!

Jeg er tilbage på pinden d. 8. august med fuldt opladede batterier, og kan din henvendelse vente, så besvarer jeg den hurtigst muligt derefter.

Med ønsket om masser af sol og sommer!

Bedste hilsner

Mathilde (Herefter standardsignatur med følgende ændring:)
Mobil: + 45 xxxx xxxx Jeg holder 100 % fri
Tusind tak til alle jer der har været med på spøgen og har deltaget i årets DM i Out of Office beskeder – og tillykke til vinderne, som alle har fået direkte besked.