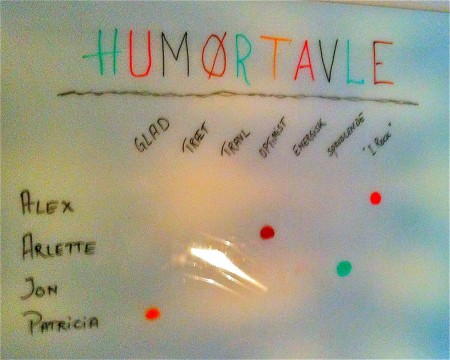 Har I et whiteboard? – lav en humørtavle.
Start med at skrive alles navne. Herefter skriver I så humørvarianterne. I vælger selv hvad der skal stå, vi har skrevet: "glad", "træt", "travl", "optimist", "energisk", "sprudlende" og "I Rock". Men måske det også var en god idé at have et neutralt valg, såsom "ok".
Glæde smitter – dårligt humør smitter endnu mere. Hvis nu vi kender vores kollegers humør i dag, kan vi tage hensyn til hinanden. Hver morgen placerer du din magnet på jeres humørtavle ud fra dit navn – her kan alle så se dagens humør i afdelingen. Hvis en kollega har en dårlig dag, kan du tage hensyn ved at lade vedkommende arbejde i fred, eller tilbyde din hjælp hvis vedkommende har travlt.
Det er uden tvivl en fordel at kende hinanden – vi ved at gode relationer skaber gladere medarbejdere. Så at have en humørtavle, kan hjælpe jer med at lære hinanden bedre at kende.
God fornøjelse :o)