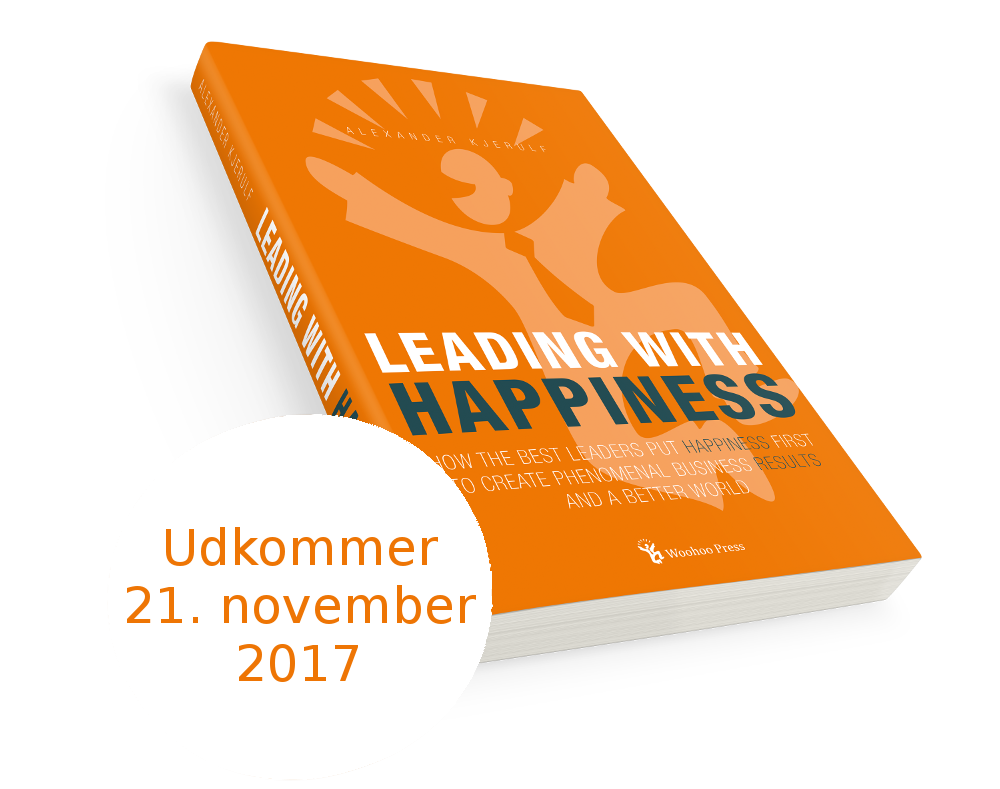 "Leading With Happiness is compelling—it's useful, well-researched, and downright fun to read."
– Robert Sutton, Stanford professor og forfatter
Vores nye bog "Leading With Happiness: How the Best Leaders Put Happiness First to Create Phenomenal Business Results and a Better World" udkommer i dag!
Bogens pointe er enkel, men radikal: En leders vigtigste mål skal være at skabe glæde. Med udgangspunkt i filosofi, psykologi og hjerneforskning demonstrerer den hvordan ledere kan sætte glæden først – for sig selv, for medarbejderne, for kunderne og for verden.
Lær af nogle af verdens bedste og gladeste ledere fra forretningslivet, kunst, politik og militæret, blandt andre:
Dirigenten som opdagede, at glade musikere spiller bedre musik
Virksomhedsstifteren som skabte meget bedre resultater da han holdt op med at være et dumt svin og begyndte at skabe glæde
Industri-direktøren som måtte aflære alt hvad han havde lært på sin MBA for at skabe en glad og succesrig international industrigigant
Atomubådskaptajnen der holdt op med at give ordrer
IT-direktøren som bragte sin virksomhed ud af en kæmpe krise ved at fokusere mere på arbejdsglæde
Bogen er til ledere på alle niveauer, der ønsker viden og værktøjer til at lede på en måde som skaber bedre resultater og en bedre verden.
"What an inspiring book. Every leader should read it and learn how to promote happiness for employees, customers, suppliers, investors, and even the leader him- or herself. That type of leadership has been integral to our success and I know it will boost your results too."
– Garry Ridge, CEO i WD-40 Company
Det er vores 5. bog, den er på engelsk, har 182 sider og kan købes i vores danske webshop eller på amazon. Frem til 1/12 har vi et introduktionstilbud, så den kan fås for kr. 120 excl. moms (normalt kr. 160).
Læs mere om bogen på www.leadingwithhappiness.com, køb bogen her eller se alle vores bøger her.