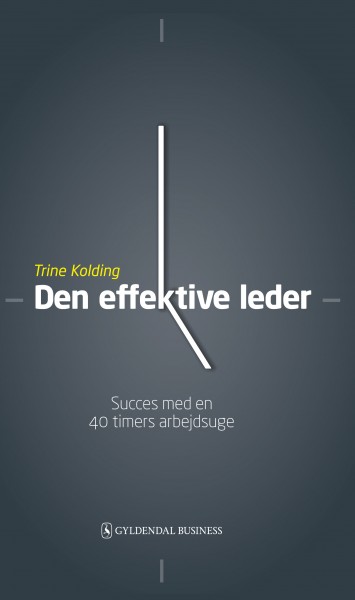 Den 14. april udkommer en ny spændende bog om ledelse, som jeg har glædet mig en del til: Den Effektive Leder, Succes med en 40 timers arbejdsuge af Trine Kolding.
Her er lidt tekst om bogen:
Det er næsten tabu for ledere at tælle arbejdstimer. For lederen er vel all in for the job?! Kan man overhovedet være en seriøs leder og samtidig "kun" arbejde 40 timer om ugen? Trine Koldings nye bog Den effektive leder – Succes med en 40 timers arbejdsuge er baseret på interview med tyve ledere fra vidt forskellige brancher. De tyve har det til fælles, at de arbejder max. 40 timer om ugen og når deres mål.

I bogen kondenserer Kolding de interviewede lederes erfaringer til konkrete anvisninger på, hvordan man som leder kan blive mere effektiv og arbejde mindre. Lær, hvad de ti fællestræk for den effektive leder er. Måske besidder du dem allerede og mangler blot at tage beslutningen, eller måske mangler du at tage styringen med din kalender og gøre op med forventningernes tyranni? Sikkert er det, at alle kan bruge bogens anvisninger til at bruge sin tid mere effektivt, hvis man for alvor ønsker det.
Jeg mødte Trine på en konference, hvor vi begge to skulle tale og var helt vild med hendes budskab og hendes historier om ledere, som har opnået succes med en arbejdsuge på højest 40 timer.
Bogen koster 300,- med moms på www.GyldendalBusiness.dk og kan også købes i boghandlen.
God læselyst :o)
Relaterede artikler: