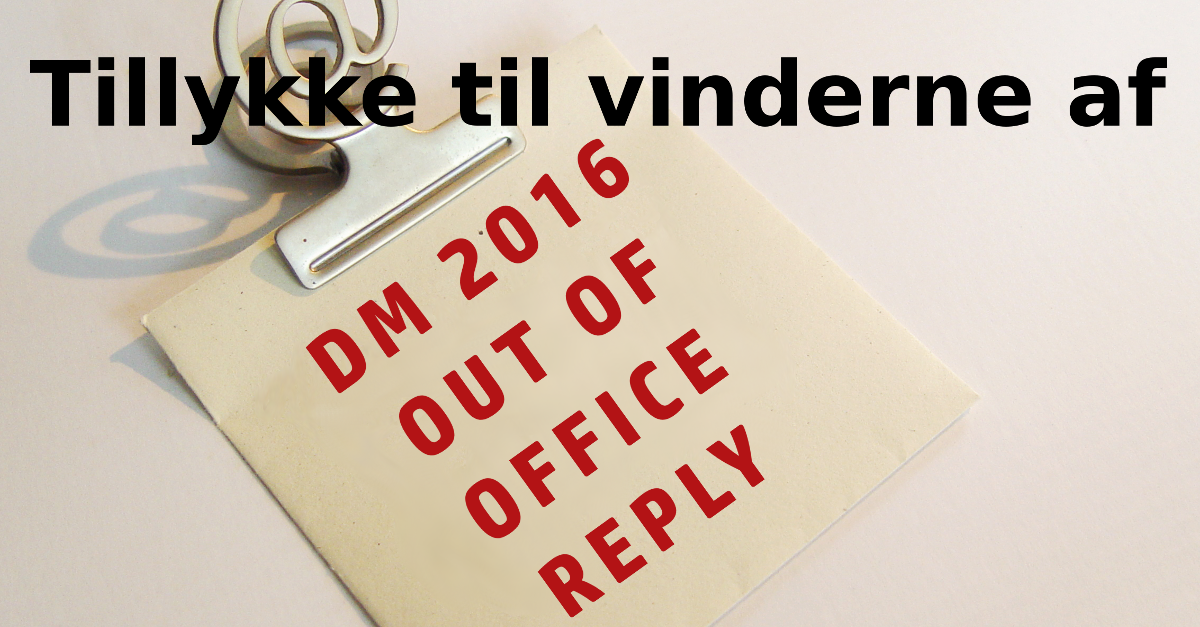 For 6. år i træk har vi afholdt vores DM i Out of office beskeder. Igen i år har juryen været på en svær opgave med at udvælge blot tre vindere blandt de indsendte forslag – tusind tak for alle de fine bidrag.
Her har vi fornøjelsen af at præsentere vinderne:
3. præmie – Bøger: 1 bog – Happy Hour fra 8 til 16 + 1 bog 52 Glade Mandage: Erik JP
Jeg er smuttet ud fra kontoret for en stund for at lade mine batterier op. Jeg kigger derfor ikke på mine mails eller svarer telefonen. Det gør en af mine fantastiske kolleger som knokler i stedet.

Min ferie slutter d. xx-xx-xxx og så er jeg tilbage med masser af ny energi til de opgaver som dagen byder, så kan nogen af mine kolleger så holde ferie i stedet.

Hav det fremragende indtil da.
xxx
2. præmie – 1 spil "Kort til arbejdsglæden" + 100 Din arbejdsglæde gør glad – kort: Rune
Tak for din mail.

Jeg ligger højst sandsynligt i et telt et eller andet sted i Rocky Mountains, med ømme fødder omringet af bjørne. Jep! – du har gættet rigtigt – jeg er på ferie og denne gang er turen gået til Canada. Her står den på en masse naturoplevelser, trekking, men også afslapning. Alt afhængigt af om bjørnene ser mig som en godbid, vender jeg tilbage rig på oplevelser mandag den XXXX. Jeg kan derfor ikke svare på din e-mail før da.

Husk, at XXXX er en eminent virksomhed med en masse fantastiske medarbejdere. Hvorfor spørger du? Fordi det betyder, at du kan komme i kontakt med mine flotte og alligevel intelligente kollegaer. Så har du brug for hjælp lige nu, så kontakt venligst XXXX eller ring til XXXX på XXXX og bliv viderestillet til regnskabsafdelingen.

Rigtig god sommer,
XXXX
1. præmie – Arbejdsglædespillet: Dennis Art Ngo-Andersen
Mit bidrag til "Out-of-office-2016" ifm. mit bryllup sidste år:
———————-
Hello,

If you're reading this, Doc Brown was unable to make lightning strike the clock tower, and I'm stuck in 1985, where my awesome girlfriend has decided that we should get married.

I won't be able to respond to emails or voicemail until the 30th of June or until email is invented — whatever comes first!

In urgent matters please contact one of my talented colleagues on xxxxxxxxxxx. Most of whom have not yet even been born!

Best regards,
Dennis Art Ngo-Andersen
Art Director
Tusind tak til alle der deltog i DM i Out of Office 2016 – og tillykke til vinderne, som alle har fået direkte besked.